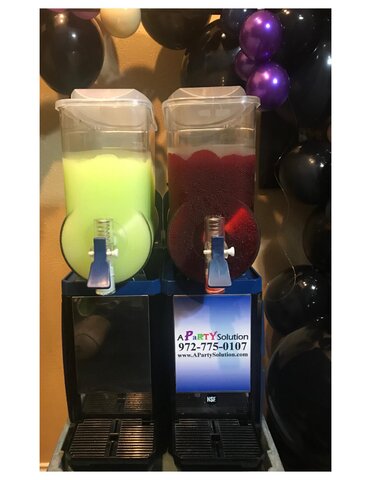 Margarita Machine Double Bowl
Rent a Double Bowl Margarita Machine for Your Next Event.
A party is not a celebration without the perfect margaritas! Let us help you with your next margarita-themed event by renting a commercial-grade margarita machine from A Party Solution. We offer the following mixes (Lime, Strawberry, Pina Colada, Hurricane, Blue Hawaiian, and Peach Bellini) that will make 50-60 drinks with 9-ounce cups. This dual bowl machine also comes with 50 cups and straws - enough for all your guests!
Machine Features:
Serve two different drinks with the push of a button.

Mixes include 50 cups and straws.

Up to 9-ounce cups for each mix

Rotate hoppers to switch between mixes.
Let's get this party started and order a machine today.